The certificate with a seal of quality which stands for climate neutrality and sustainability.
The interest of industry and the general public is growing not only in support for cleaner air, but also in saving and protecting fragile ecosystems. Climate Extender is an efficient and reliable partner offering an optimal contribution for each given application, so that the common goal of protecting the environment is sustained in the long-term.

All our climate protection projects contribute to one or more of the UN Sustainable Development Goals (SDGs). This means that Gold Standard climate projects make an important contribution to reducing global warming, but also work to create jobs, build communities and secure their livelihoods.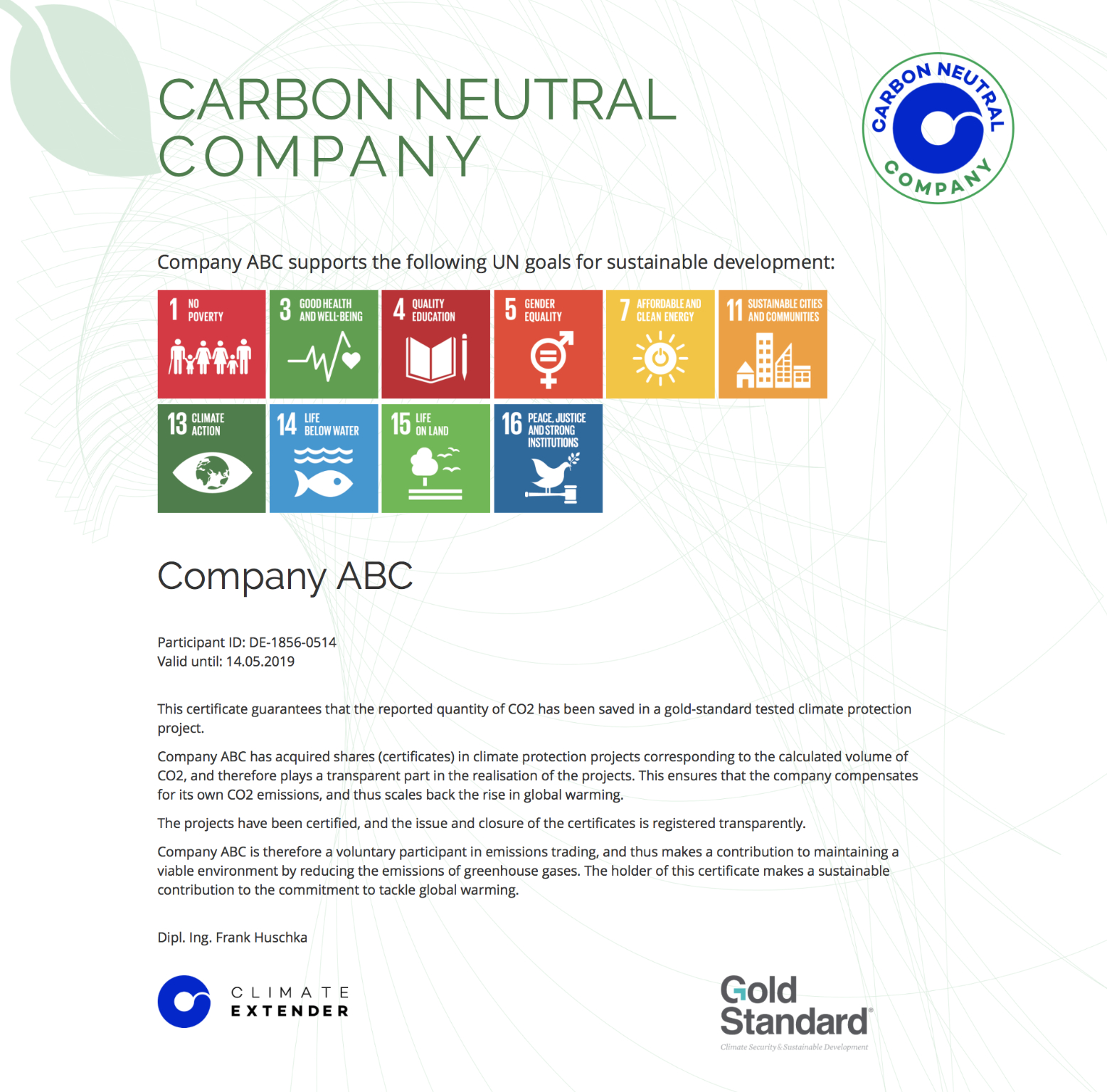 THE CLIMATE EXTENDER CERTIFICATE WITH SEAL OF APPROVAL IS SIMPLE AND UNCOMPLICATED
---
Sustainability in 3 easy steps.
We are committed to climate protection combined with growth and profit for all. Climate protection is an integral part of the value chain.
SAVE ENERGY
Compiling a CO2 balance sheet
Conserving energy
Save CO2
Create and meet the budget
COMPENSATE CO2
Select CO2 certificates
Support climate conservation projects
Build communities
Create jobs
Save lives
BECOME CARBON-NEUTRAL
Acquire a certificate with a seal of approval
Motivate employees
Establish a more sustainable company
Improve image
Reach out to new customer segments
My company should become climate neutral
I would like to learn more about high-quality Gold Standard climate protection projects.
More Info
UN-TARGETS FOR SUSTAINABLE DEVELOPMENT
Our catalogue complies with the 17 recognized goals which support sustainable development.
You choose which of the SDGs (UN Sustainable Development Goals) are a high priority. We will provide a customized certificate showing your personal selection with the relevant symbols.
These 17 areas represent the current global challenges that have not been adequately addressed globally by the recognised institutions.
We market and partner with only Gold Standard products.
WHAT ARE THE 17 TARGETS?
The 2030 Agenda 2030 establishes the basis for shaping global economic progress compatible with social justice and within the ecological limits of the earth.
THREE DIMENSIONS OF SUSTAINABILITY
The 17 Sustainable Development Goals (SDGs) take equal account for all three dimensions of sustainability - social, environmental and economic - for the first time.
THE CORE
At the heart of the agenda is the ambitious catalogue of 17 Sustainable Development Goals (SDGs).
AGENDA 2030
Agenda 2030 extends to all countries of the world including: developing countries, emerging markets and industrialised countries. Everyone has a part to play.
Climate protection for companies in every sector
The possibilities to effectively offset and compensate CO2 volumes are wide and unlimited in each region.

Climate investments have global effects.

The standards for an eco-friendly environment are the same all over the world and are described in our selection catalogue.

By choosing the most pressing requirements from the categories are customized to your priorities and demonstrate your commitment to the project certified with our transparent seal.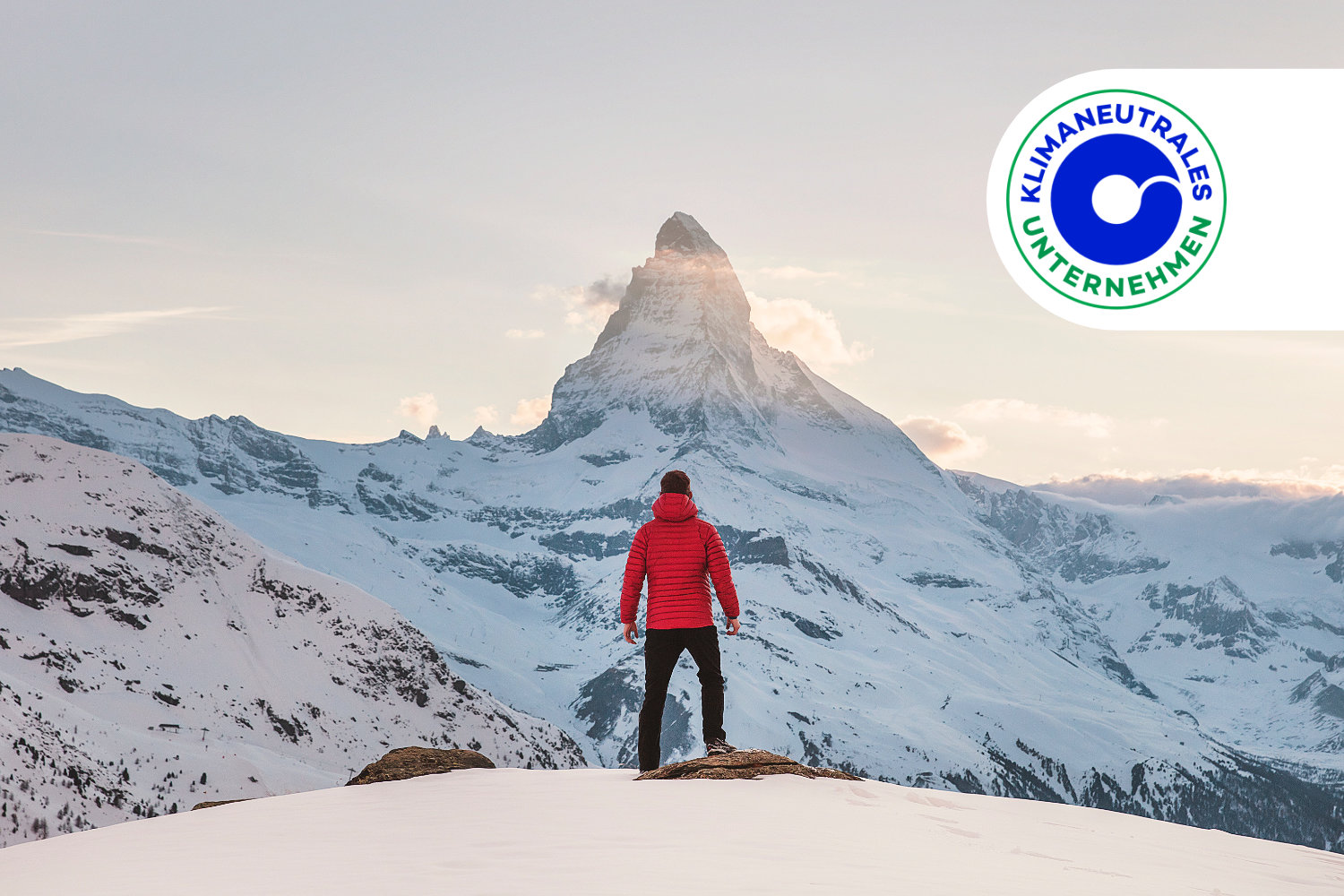 ---
CERTIFICATION CREATES TRUST. TRANSPARENCY ENSURES EFFICIENCY
The recognised institutions guarantee that the certificates originate from effective climate protection projects and will not be resold. Examples include: Gold Standard, VCS, BUND, CarbonFix etc. all passing critical objections.

Gold Standard was founded in 2006 with the participation of a number of non-governmental organisations (NGOs) such as WWF. The large number of carefully controlled projects in place guarantees a high level of seriousness for the customer.
80
80 NGO´S SUPPORT CLIMATE TARGETS IN 80 COUNTRIES
1400
Environmental and climate protection projects
The Climate Extender Seal of Approval is a product based on a Gold Standard.
Gold Standard Projects are reliant on a continuous control system supported by a thorough reporting system. TÜV certification sets the standards for effective energy management. Based on ISO 50001 standards, potentials are identified and opportunities shown which would systematically reduce energy consumption.
---
Contact
Have you any questions?
Would you like to find out more about climate protection?
We will be happy to inform you about the benefits of becoming involved!
---
E: Contact
P: +49 176 444 03 683